Q. What would you do with 1.000.000$ in your pocket right now?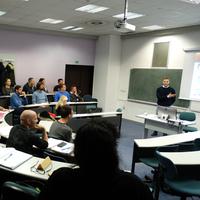 Hello I am alex and I'am Alex..
What would you do with 1.000.000$ in your pocket right now?
i would invest big portion (50% maybe) in something "stable" - probably some real estate or apartment in holiday resort that will bring back nice income. then second part would go to stocks (20%), 15% into crypto and 15% right into the bank account for some "happy time" :) (i could not imagine investing all of that without making some nice time from such sum)

I woud throw up the biggest party in the history…
Jk. I'd probably go roughly 600-700k~ for dividend, loan payouts, (stocks, bonds, index etc. etc..) full time living 100% passive
Rest divided between cryptos or other speculative assets and life :)

I'd also order a bitconnect shirt.

Go all in on BTC and other Cryptocurrencies and Fund my whole families retirement fud and never work again :D!

If I have $1000/- , $350 spend in Eth and altcoins , $300 in BTC, $350 in USDT and make every situation favourable and make tis amount to bigger one. After when I get 2x or 3x, i will withdraw the seed amount and invest them elsewhere…as top to priority. Crypto will make again

Id quit work right now and go home and get back in bed as im tired af.
Id order me a big selection of Papa Johns pizza for few hours time to wake my ass up.
While im enjoyong my pizza id invest half of my money into Crypto and decent ICOs to feed my crypto addiction.
Id go house and car shopping while watching the big gains in crypto id be making.
With my crypto gains id love to treat my friends, family and people less fortunate, and maybe my ex wife if shes lucky.

The smartest way to use your money, is to have your money working for you!
Middle-class people (we) always do the mistake of using money on depreciating asset (house, car, watches..)
Instead, invest it in something (I won't tell you what now, YOU have to find out…) that gives you a return every year. 5%, 10%, 20% it doesn't matter as long as you earn instead of spending.

But of course, enjoy life and bless your family and friends with 10%/20% of that money won't hurt :)

I am all in on crypto. I have limited fiat currency. 90% of my monthly paycheck goes into my favourite coins.

So, with $1 million, I'd invest it in equal parts into Neo, Achain, Eos and Zilliqa.

People say only invest in crypto what you can afford to lose. I say go all in because diversification is for idiots.

Management Asset with Ray Dalio Ratio Asset for prepare facing four season : inflation, deflation, Rising Economy Growth, Decline Economy Growth, with modification
1. Gold/Silver 5 %
2. Commodities 15% (including Crypto)
3. Stock 15%
4. Long Term Bonds 40%
5. Middle Term Bond 15%
6. Passive Income 10% (property rent)

short term… buy Bitcoin and Altcoins… then Long term goal to Pay off the mortgages for everyone in my immediate family…

I will invest 90% into crypto social networks

With $1000 Dollars I would diversify into several investments.

$150 - Basic Savings Account
$150 - Buy Bitcoin
$150 - Buy Altcoin (Top 10 Coinmarketcap)
$150 - Buy 5 Silver Rounds
$100 - High Yield Investment Program (HYIP-High Risk)
$100 - Setup an Amazon Affilliate Website (from Fiverr)
$100 - Lend it online to (xcoins/poloniex) to earn interest
$100 - Buy Blockchain based stocks

In 1 year see my $1000 multiply X2-X100. Then rinse and repeat until I can retire.
Asked in Category
Business
"Just do it", "Go further", "I'm lovin' it", "Think different", "Open Happiness".
Can you take a guess who owns these taglines? Basically, when you think of business, you consider something that people will surely remember. Business meets creativity, strategy, and vision. You can add more. A famous artist once said that business is the best art. It's creating money and jobs at the same time. Helping people and helping yourself is such a good cause.
Businesses in different varieties have been rising successfully nowadays. Business Process Outsourcing and other online jobs that are either home-based or office-based are just few of the many. In all these opportunities, you may consider to have your own business. Working hard for your dreams is far better than making somebody else's dream come true. It may take a while yet the profit is worth the risk.
137 views overall.

Asked on