Q. How To Download And install Sound Driver?
How To Download And install Sound Driver?
Reinstalling Audio Drivers on Windows 10/11
Reinstalling audio drivers usually resolves all audio-related issues in Windows. There are two major methods for reinstalling audio drivers on your computer.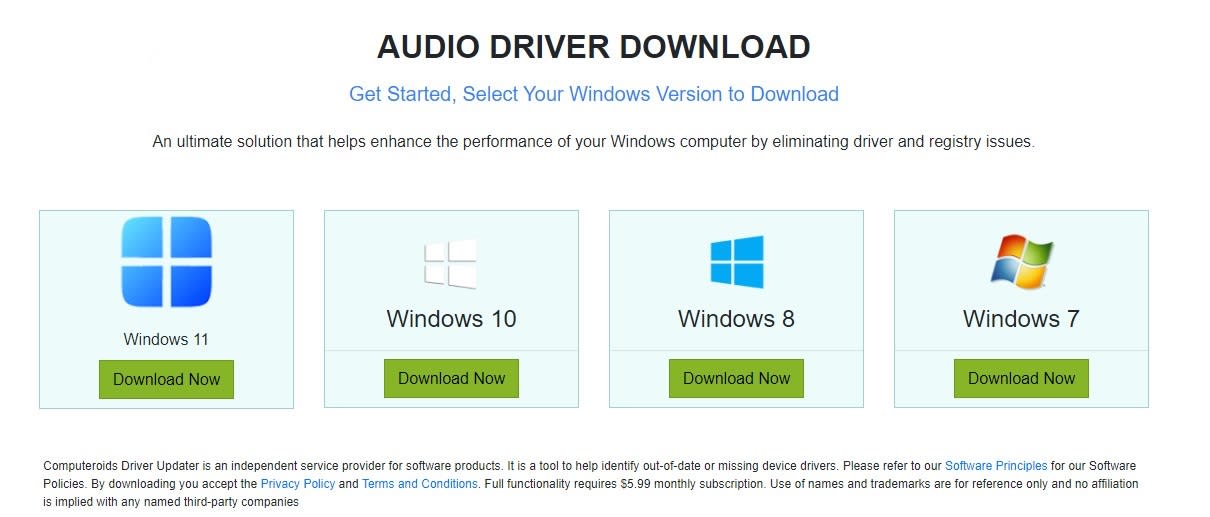 Please make a note of your audio driver provider and version before proceeding so that you can simply obtain them from the manufacturer's website when you need to reinstall them after uninstallation.
How to Determine the Provider and Version of an Audio Driver
Type device manager into the start menu search field and press the Enter key.
Expand the section that states Sound, video, and gaming controllers next. Then, right-click on your audio driver and choose Properties.
After you've written down the audio driver provider and version, you may use one of the two procedures below to complete the uninstallation:
Method 1: Use Device Manager to reinstall the audio driver.
To launch Device Manager, click on the option Device Manager from the Start menu search bar results.
Go to the section Sound, video, and gaming controllers and expand it. Then right-click on your audio driver and select Uninstall device from the menu.
Click the Uninstall button in the Uninstall Device UAC box when it appears.
When the operation is finished, restart your system.
The system is meant to automatically download all missing drivers, including the one you just deleted, when it boots up.
It is, however, usually preferable to perform a scan for hardware changes directly from the Device Manager window. To do so, right-click on your machine's name in the Device Manager box and select Scan for Hardware Changes. installing audio drivers This should restore all of your missing drivers to your machine.
When restarting Windows and scanning for hardware changes fails to install the audio driver, go to the manufacturer's website and search for the driver version provider name and version you wrote down before in the section How to Find Out Audio Driver Provider and Version.
Method 2: From the Control Panel, reinstall the audio driver
In the windows start menu search bar, type appwiz.cpl and hit Enter. This will bring up the Control Panel's Programs and Features window.
Next, look through the list of applications to find your audio driver item. After you've found it, right-click it and select Uninstall, or click the Uninstall button at the top after choosing the audio driver entry.
After you've completed the uninstallation, restart your computer so that the missing drivers may be installed automatically. You may also manually install the audio driver by downloading it from the manufacturer's website and double-clicking on the executable file, as described previously.
If you install sound driver for your system but no sound comes back, you could suspect the audio driver is defective. This isn't always the case, though. Frequently, all it takes is removing the old audio driver and installing the new one to solve the problem.
This is the same as upgrading your operating system. Upgrading from Windows 7 to Windows 10 might be difficult at times. Instead, you should remove Windows 7 from your computer and install Windows 10 from scratch. Before you do this, make a backup of your drivers on the computer!
Asked in Category
Science and Technology
Few years back, you may have imagined about robots dominating the world; a miniature helicopter capturing photos; or living in Mars. Imagination goes well with creation. We're on our way. For hundreds of years, science has been doing studies and giving explanations to occurrences that go beyond the human imagination and understanding. Thus, theories are created.
For hundreds of years, technology has been doing a great job in industrialising the world. You step in the land of the first world countries and see for yourself how lifestyle has been advancing. Yet, theory is a theory until it's proven; technology remains limited. You might wake up one day and see that sci-fi turns into reality. However, what happens next when the clock ticks to 'Midnight' and doomsday is for the universe?
2 views overall.

Asked on